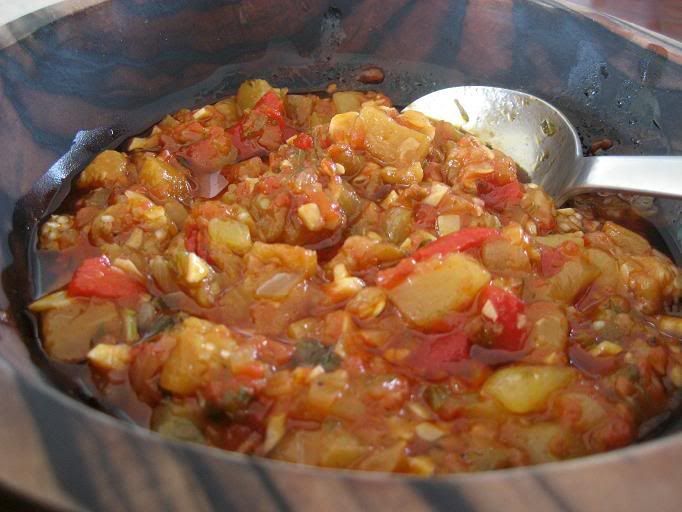 I don't know if I love this sauce because it's got zucchini in it or because I love saying it's name : ratatouille (rah-tuh-TOO-ee). But whatever the reason, it is a favorite. Ratatouille is a traditional French
Provençal
stewed vegetable dish which can be served as a meal on its own, with rice, bread or potatoes or as a side dish, hot or cold. It is tomato-based and usually consists of eggplant, garlic, green peppers, tomatoes, zucchini, flavored with oregano, thyme, rosemary and basil.
Our family likes to serve this dish with pasta. Poured over penne or spaghetti, with some crusty bread to wipe up the sauce with. But I've found that it is also perfect with grilled fish. Once, I served it as bruschetta for appetizers which turned out to be a big hit. The best thing about this sauce is it's wonderful hot
or
cold.
Of course, there are tons of ratatouille recipes out there, but this is the only one I've ever known and one I am very happy with.My dream is to one day pick the ingredients I need for a good ratatouille from my own garden. :)
Ratatouille
EVOO
4 pcs zucchini, chopped
6 pcs eggplant, chopped
1 small can pimiento, chopped
2 – 2 ½ cups basic tomato sauce (recipe below)
Salt & pepper to taste
Saute zucchini in olive oil until golden brown and set aside.
Saute the eggplant in olive oil until golden brown and set aside.
Using the same pan, pour in the basic tomato sauce, add the zucchini, eggplant, and sliced pimiento and cook on medium heat. If you feel it's a bit acidic, add a little sugar.
Basic tomato sauce:
½ cup minced white onions (2 large)
½ cup minced garlic
½ cup olive oil
½ cup herbs (2 part basil, 1 oregano, 1 thyme)
½ cup parsley
1 can whole tomatoes (largest can)
1 beef broth cube
1 ½ - 2 tsp salt
pepper to taste
1 cup water, if needed
Saute garlic and onions in very hot olive oil. Add the dry herbs and tomato juice from the can. Mash whole tomatoes and add parsley. Add salt, pepper and beef broth cube. Add water, if needed.
You may reduce the tomato sauce to 1 1/2 cups if you like it less saucy.