There's something so distinctly summery and special about eating and even cooking outdoors. The food tastes better and somehow the dining experience is more enjoyable. It's relaxed, it's fun, and it lets you enjoy the sunshine and to a certain degree, to commune with nature.
Picnics
and outdoor barbecues have a certain charm for me. When I was little, we would go on family picnics with cousins and family friends often, usually at
Lake Caliraya
or by the beach.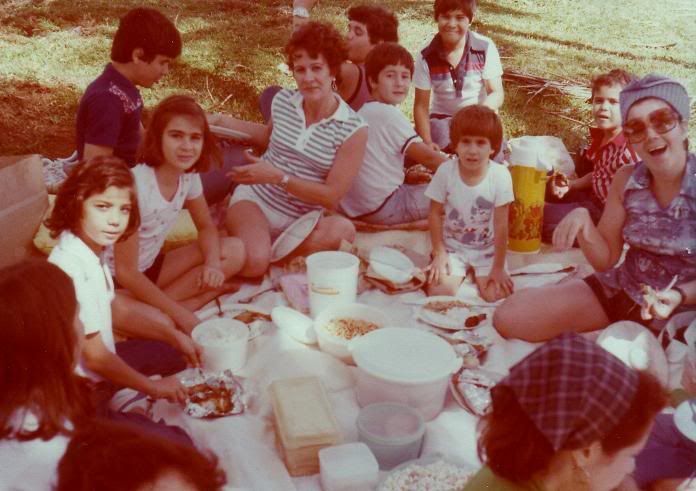 Lake Caliraya in the late '70s.
That's me kneeling on the blanket with the "coconut husk" head of hair.
Be nice with your comments, you've had your bad-hair years too!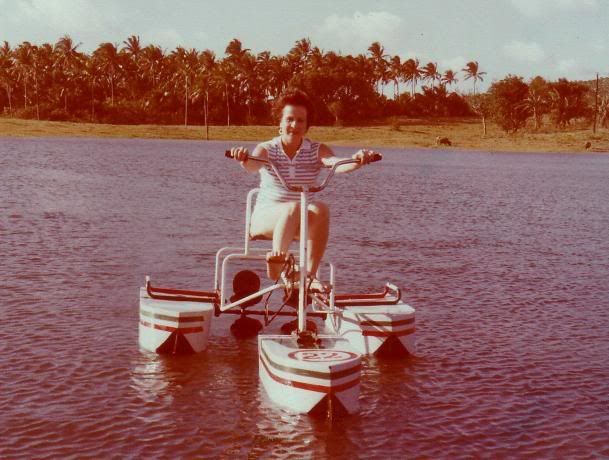 My mom burning off what she ate :)
I think this is by Lake Caliraya as well.

My sister and her husband are masters of outdoor entertaining. They have a big front lawn where they like experimenting with different settings. Sometimes it's casual with
banigs
(woven mats) laid out on the floor and throw pillows scattered about, and other times they'll bring out some sofas and low make-shift coffee tables draped in batik fabric and light up the place with torches and candles during evening parties.
Last Sunday, my sister invited us all to a barbecue
merienda-sena
(afternoon snack/dinner) at her place. She prepared a feast which included appetizers of prosciutto & melon,
chicharon
(pork cracklings), various chips & dip, caesar salad, &
lumpiang ubod a la Marketman
(which was excellent!!). She has taken to lurking in foodie blogs and the inspiration they've given her has produced many delightful meals from her kitchen. She has gone to the farmer's market more in the past month than she ever did in her entire life. :)
The grill was fired up and we had hotdogs, hamburgers, Japanese sweet corn, and
pepitos
(small cheese steak sandwiches). Then as if we weren't already ready to burst, she set up a
halo-halo
bar and served the
cupcakes
I brought. Here are some snapshots from last Sunday: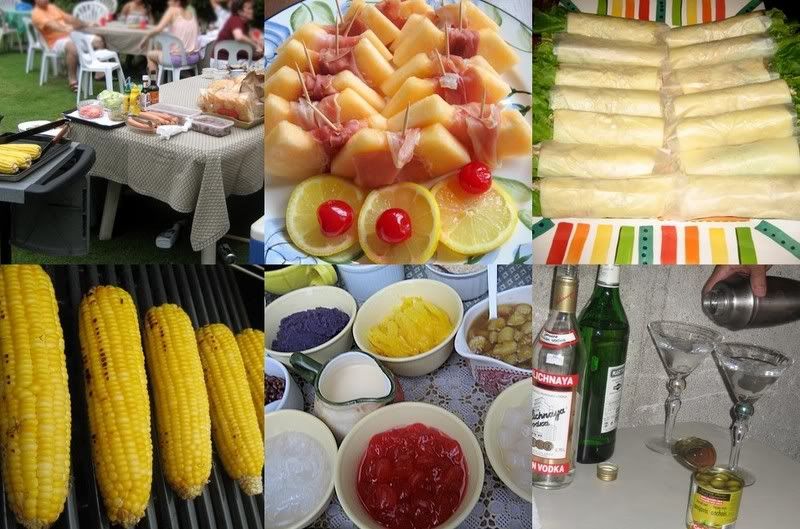 top row l to r:

The casual set-up, prosciutto-wrapped melon, lumpiang ubod a la Marketman
bottom row l to r:

Japanese corn, the
halo-halo
bar, the martini bar
Picnics and outdoor barbecues rank right up there with lazy Sunday brunches. With my own future family, I plan to appoint Saturdays as
Picnic or Barbecue Day
(weather permitting, of course- and if it's rainy outside we can do indoor bakefests instead!) and Sundays as
Slow, Lazy Brunch
Days
where we can play around with themes and take turns planning the menu. It should provide for great family bonding time, don't you think?