One of my favorite places to hang out in London is
Camden Town
. If New York City has
Greenwich Village
and Paris has the
Rive Gauche
or Left Bank, London has Camden Town with it's bustling market. If I had nothing planned for the weekend, then
Camden Market
is where you'll find me, lost in the blur of color and cacophony of sound and aroma that is this bohemian wonderland. Everything about Camden is an assault to the senses.
The market has become a favorite among locals and tourists alike because of the wide variety of goods being sold here including hard-to-find items from faraway places.
Regent's Canal
that runs straight through the middle of the Market lined with pubs and eateries where you can sip your pint as you watch the canal boats go by and through the
lock
. Camden Market is so big that it is actually six markets in one: the
Stables
which is the largest market of all has mostly vintage clothing and furniture,
Inverness street market
, the original
Camden Lock market
which features crafts from all over the world, and a few other sections for art enthusiasts, antiques, used books, handmade soaps, earthenware, and even what they call an
Electric Ballroom
- an indoor market on the weekends selling music-related goods.
During the summer, I would spend hours sometimes even the entire day here just browsing the stalls, getting my fortune told and people-watching (Camden Town is also known for it
eccentric and shady-looking characters
, as well as a place to score easy pot). But my favorite part about visiting this place was the food. All kinds of food!
There is a strong Oriental presence but you will find specialties from around the world. There are stalls selling dimsum and noodles, burritos and tacos, gyros and falafels , fish and chips, Belgian frites, donuts and coffee, tartines and croissants, curries and tikka masalas, sushi and tempura, spring rolls and pho, crepes and pastries, shawarma and hummus, samosas and skewers of chicken teriyaki, chocolates and
fudge
sold in blocks as big as shoeboxes, mulled wine and chai....name it, I can assure you you'd find it there! I can write a
whole
blog
about Camden Market and it's food. But I won't, as it is something that is best left to be experienced. So I will get to my point. Why am I talking about Camden Market anway, and what does it have to do with my post title?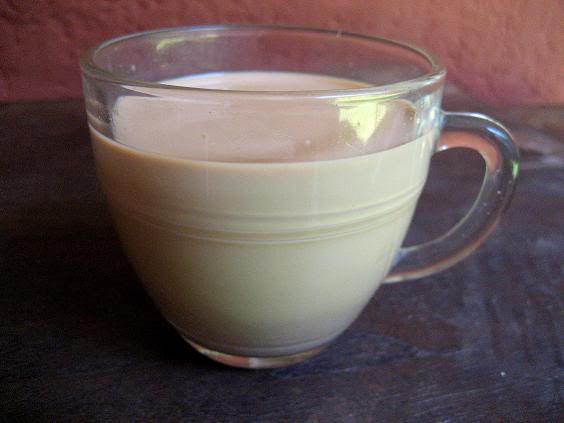 Well, it was in Camden Market where I first had my taste of real masala chai, a sweet spiced Indian milk tea. Not the restaurant variety that was probably made with a tea bag and some milk, which was usually week and diluted. I'm talking potent authentic Indian masala chai, being scooped up and served from a huge pot like a witch's cauldron.
I was first drawn to the stall like a dog following a scent. I sniffed the air until I found it, until I found where that aroma was coming from - a heady mix of cinnamon, cardamom and other spices. I looked into the pot, seeing big chunks of ginger and cinnamon sticks bobbing along in the milky pool and was hit by a waft of steam that was at once intoxicating and inviting.

I ordered a cup, warming my hands around it as I walked towards the canal. I knew this was going to be an unforgettable experience, so I wanted a nice view to go along with it. And it was. I sat on the bench with the sun in my face listening to Brazilian samba from an eatery nearby, slowly sipping from my cup, thinking that all was well in the world.

Prior to this experience, I had only ever tried tea-bag masala chai like the kind made by Stash. But tasting the real thing ruined those for me. So it was that every weekend, or whenever I was up that way during the week, I bought some homemade fudge and chai. Many times having more than one cup. It became a ritual for me. Rain or shine. Especially during the winter months, when there was nothing like a nice cup of hot chai to warm my soul. Sometimes in the evenings I would opt for a cup of mulled wine instead (incidentally, this is my next experiment), but ultimately it was the chai I came for.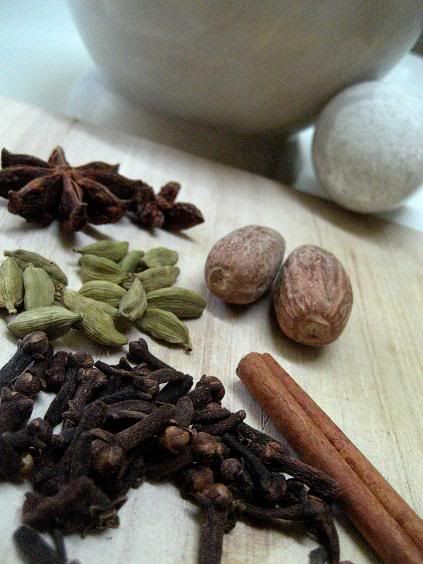 Moving back to the Philippines, I knew finding a local place serving authentic masala chai as good as Camden's was would be a challenge. But I searched anyway. In every Indian restaurant I visited, I ordered their masala chai and though most were alright, none came close. I searched online for recipes, each one considerably different from the other. I had about five different recipes saved in my folder, all waiting to be tried and tweaked to my liking.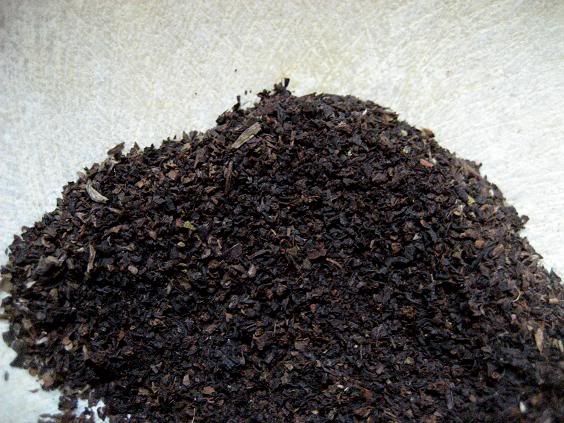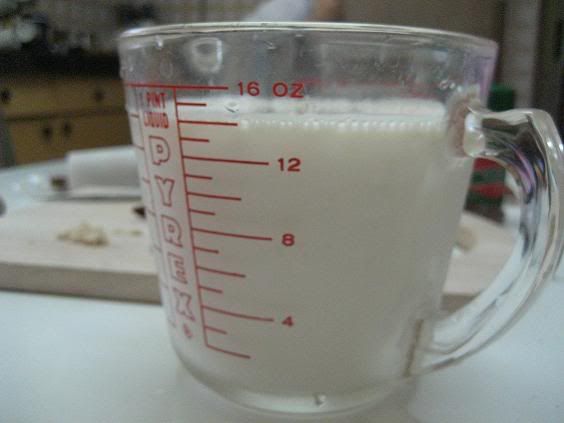 Making chai is like making sangria, or paella, or adobo. There is no end to the diversity of recipes, you can add or remove ingredients (in this case, spices) as you please to find your perfect brew. The fun is in the experimenting!

In my research, I discovered the most delightful website about spices. It's called Spice Advice. You'll find everything you ever wanted to know about popular spices here including how to test spices for freshness, storage suggestions, recipes, a spice encyclopedia, a history on spice trading, measurement conversions, etc.
This is more or less the recipe I've come up with after experimenting with four different recipes:
Masala Chai
2 cups water
1 1/2 cups fresh milk
1/2 cup evaporated milk
2 tsps black tea
3 cinnamon sticks or 2 tsp ground cinnamon
10-12 whole cloves
10-12 cardamom pods, cracked
1 ginger finger - about 3/4 inch
1 nutmeg - freshly ground
In a medium sized pot, bring all the ingredients to a boil. Then lower the heat and let it simmer for at least 45 minutes.