My sister, Ginny, is sleeping over tonight with her 3 youngest kids. Her husband and the 2 older boys are out of town on a wakeboarding trip to celebrate their eldest's 12th birthday.
Happy Birthday Diego! :)
I love it when her kids visit and most especially when they sleep over. It's always a celebration of youth. The house comes alive with happy noise reminding me of how it was when all my siblings still lived at home.
When I was much younger, my older sisters would sometimes spend hours baking in the kitchen. I remember watching as they made
polvoron
(powdered milk candy), blueberry cheesecake, flan, banana bread, oatmeal cookies or tapioca puddings. Most of which they learned from our
abuelita
(grandma). I loved every minute of it - from tagging along as they shopped for ingredients, being mesmerized by the whirring and swirling of the mixer, feeling important and proud as I helped pour in the milk slowly, and my most favorite part of all, licking the spoon or spatula! Those are some of my fondest memories. So commonplace yet so meaningful.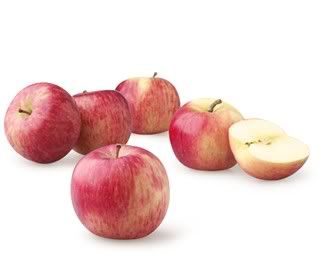 Tonight we relived those days. (Although instead of my other sister Lilibeth who has since moved to Canada, my niece Bea joined us). Same fundamental tradition, same kitchen. The walls may have been painted a different color, but they still held the divine secrets of our sisterhood. ( oh stop your groaning, I'm allowed to be corny sometimes!) :)
Anyhoo, Ginny was so intrigued by
Glo's Apple Crisp
which I mentioned in my post about
Lori's baking demo
she suggested we try and make it together. She didn't need to twist my arm! She brought the apples and we went to work immediately after dinner. She peeled the apples while I made the crumble topping. I then chopped what she peeled, as she prepared the rest of the ingredients to be mixed with the apples. Bea was distracted by the TV, but she would come in every now and then to check on our progress and see how she could help. The recipe was so easy though, that there really wasn't much to do. So I think she got a bit bored and decided to come back when it was ready.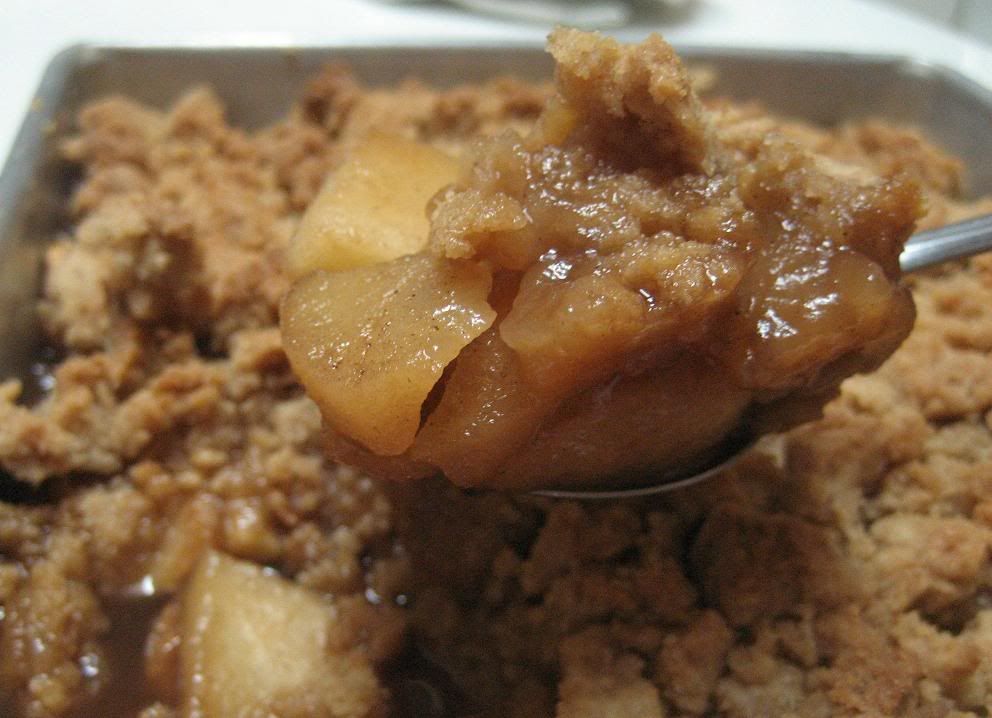 Which was one hour later. Ginny watched me take my first bite then asked, "So are your knees weak again?". I didn't answer, I just closed my eyes and savored the flavors in my mouth.
God, it was gooooooood!
After seeing the look of pure ecstacy on my face, she shoved me aside to get her own plateful. Her reaction mirrored mine. We didn't even bother with the vanilla ice cream. Maybe next time.
I have decided to give it my own name:
Glo

rious Ap
ple Crisp
, in honor of the sweet lady who generously shared her aunt's recipe with me. :) Thank you again, Glo!
Ingredients:
Apple Mixture
5-6 Fuji apples, peeled & cut into wedges
2/3 C brown sugar
2 tsp lemon juice
1/4 tsp cinnamon
1/4 tsp vanilla extract

Preheat oven at 325F.
Mix & gently toss the apples, sugar, lemon juice, cinnamon & vanilla. Set aside until the apples give off their juices for about 10 mins.
Transfer the mixture to a square baking pan.

Topping:
1 stick butter, unsalted
11/2 C brown sugar
1 tsp salt
11/3 C all purpose flour
In a bowl, mix together the butter, sugar, flour & salt. Don't overblend. Grab a handful & squeeze tightly to compress into a solid piece. Then crumble it into small pieces on top of the apple mixture. Repeat with the remaining topping.

Bake for 1 hour or until brown. Serve with vanilla ice cream.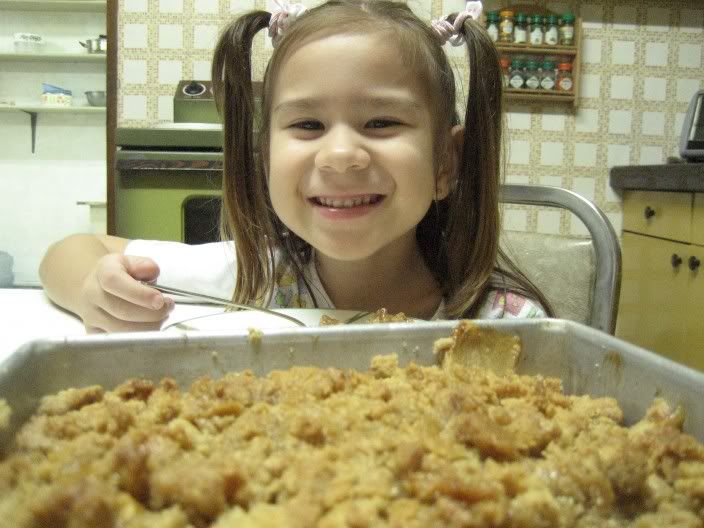 Can you tell she loved it too? :)
BTW,I think it's funny that my nephews/nieces have taken to calling me Tita
(aunt) Crisp
now instead of Tita Chris. :)