Got a hangover? Indulge in some retail grocery therapy and bake cupcakes! That's what I did on Saturday.
I went to a birthday party at
Kublai's
last Friday night straight after a 9pm meeting at work. I had a long day and was really looking forward to unwinding with a couple of drinks. Well, it wasn't just a "couple" of drinks for me, but three. Three
Cubaba Libres
(no, that isn't a typo - that's Kublai's take on a double rum & coke served in massive glasses)
and a few sips of the deadly
Double Side of Khan
(an even deadlier concoction served in fish-bowl sized glasses which is their signature drink. What's in it? More like, what's
not
in it!).
Anyway, I had a blast! Eventually, I had to drag my butt home at 3 am.
I didn't have a massive headache or anything the next day, but I felt spent and my tummy was queasy. That night just drained my energy somehow and I didn't feel like doing anything or going anywhere. I just wanted to veg out in my room and curl up with a book. Which I did the entire morning and the early part of the afternoon. Then I got restless and drove to the grocery for some retail therapy. I bought some Japanese sweet corn and carrots for the cupcakes I wanted to bring to the afternoon barbecue my sister had planned on Sunday.
Late-night baking on the weekends seems to be the norm for me lately. Baking at this time is a little easierI guess because there are less people milling around the kitchen.
Rusty
is also calmer towards the end of the day so he's less likely to try and steal anything from the kitchen counter or worse gnaw at my feet under the table like they're his personal chew toys.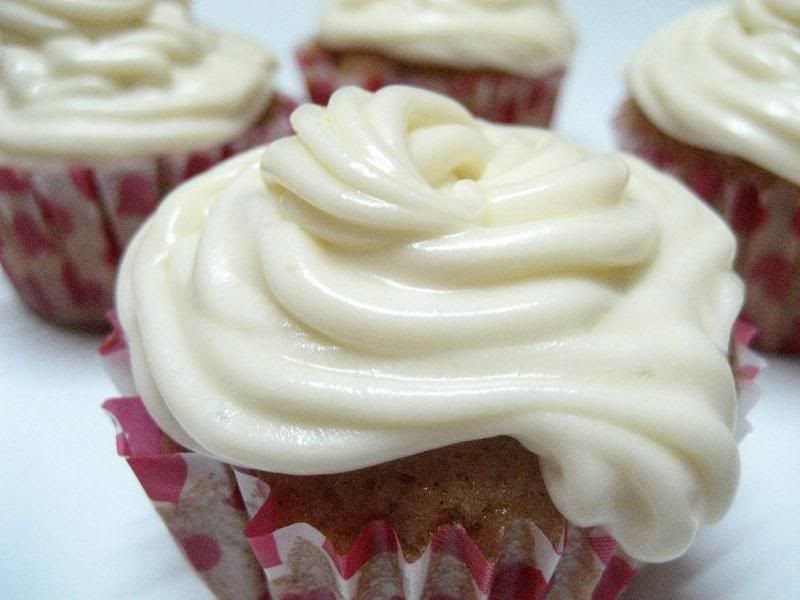 Carrot Cupcakes

adapted from the
Better Homes and Gardens Cook Book (12th ed)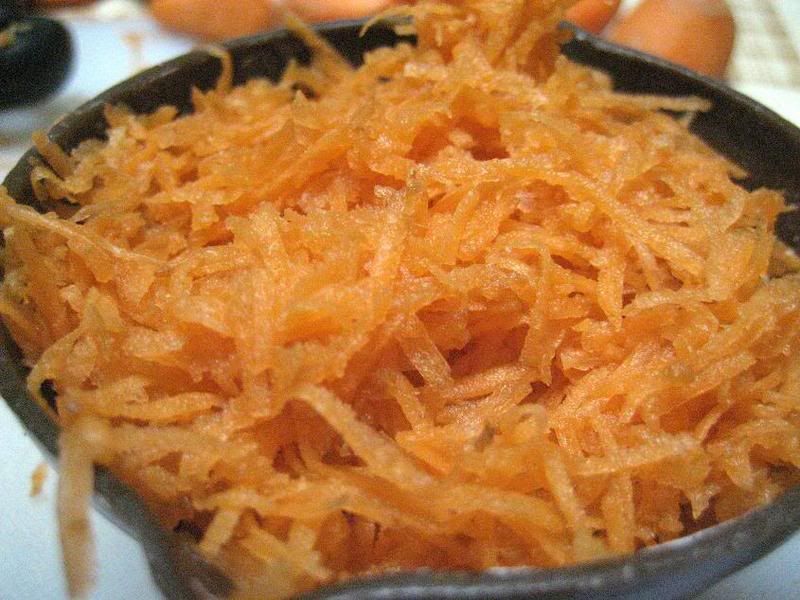 4 beaten eggs
2 cups all-purpose flour
2 cups sugar
2 tsp baking powder
1 tsp ground cinnamon (optional but of course I included it)
1/2 tsp baking soda
3 cups finely shredded carrots, lightly packed
3/4 cup canola oil
Preheat oven to 350 deg.
In a large mixing bowl stir together flour, sugar, baking powder, cinnamon and baking soda. Then in a medium bowl combine the eggs, carrots, and oil. The carrots need to be finely shredded so they don't sink to the bottom of the pan during baking.
Add the egg mixture to the flour mixture and stir well.
Line your muffin pans with cupcake liners (or grease the pans if not using liners) and pour the batter in. Bake for 25 minutes or until a toothpick inserted near centers come out clean. Cool the cupcakes on a wire rack for at least 10 minutes. When cool, frost with cream cheese frosting and store in the refrigerator until it's served. This recipe yields 19 cupcakes.
For the
cream cheese frosting
: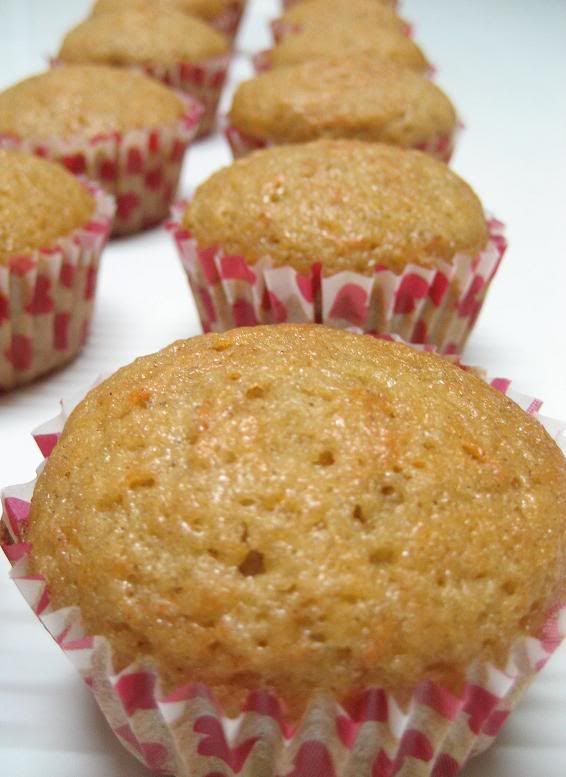 1 8 oz package of cream cheese, softened
1/2 cup butter softened
2 tsp vanilla
3 cups sifted powdered sugar
Beat the cream cheese, butter and vanilla with an electric mixer until light and fluffy. Gradually add the powdered sugar, beating well. Add more powdered sugar until you reach your desired spreading consistency.
This cream cheese frosting recipe makes 4 cups because it was originally intended to frost an entire cake. So it would be a good idea to scale it down as you won't need this much for all the cupcakes. But if like me, you're a sucker for cream cheese frosting go ahead and make the entire recipe. You can always store the leftover and use it on that banana bread you plan to make soon. :)