When travelling, I try to learn as much as I can about my destination. I like to read up on some history, learn about unique aspects of the culture and local custom, make a list of must-sees, things to do, local food to try, learn a few key phrases from the local dialect, you get the picture.
Though I usually enjoy reading travel guides like
Lonely Planet
or Insight Guides before leaving for my trip, they are just too heavy and bulky to lug around while actually
on
the trip. And I prefer to get my info from locals who actually live there or at the very least fellow travellers who have 'been there done that'. It has become my MO to spend hours researching entries by fellow
Virtual Tourists
and
BootsnAll
members, compiling them all with some pictures, and then printing my own light-weight travel guide. I especially enjoy this because the entries are naturally written in their own words, and each one offers a genuine, unique and oftentimes quirky perspective on a subject. I'm rarely disappointed with the recommendations because I know they are simply that, personal recommendations. Not promises.
But you see, I can spend hours and hours on this type of research because I super enjoy it. I'm aware though that not everyone shares the same nerdy passion, yet would prefer a lighter and more fun alternative to the heavy guidebooks at an affordable price. And for those people, I am happy to introduce the ultra-chic
Luxe City Guide
.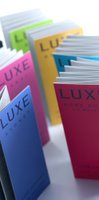 During a recent trip to Hanoi, my friend Therese introduced me to this little treasure. I couldn't believe how this pocket size concertina-style guidebook could contain so much information. And with an attitude too!
Contributions are usually from about 20 local residents, whose recommendations have all undergone strict style and flair tests, and verified personally by the editor. The top tips are oultined in tongue-in-cheek and sometimes even downright hilarious dialogue. In some parts, even oozing sarcasm.
Here's an excerpt about the Ho Chi Minh Mausoleum from the Hanoi guide:
"Remember it is expressly forbidden to wear hot pants and a pointy bra, macrame your own poncho or wear anything ever!"
These hip guides, which cost $9 a piece, are packed with lots of 'secrets' that only locals are privy to. Stuff you can be sure you wouldn't find in the bigger books. It's as close as you will ever get to seeing a foreign city with a native.
At the moment, city guides are available for the following
Asia
and
Australia
destinations: Bali, Bangkok, Beijing, Chiang Mai, Dubai, Hanoi, Ho Chi Minh City, HongKong, Melbourne, Phuket, Seoul, Shanghai, Singapore, Sri Lanka, Sydney, and Tokyo.
After practically reading Therese's Hanoi guide from cover to cover, I bought a couple of my own city guides from the Ipa-Nima store in Hanoi and grabbed yet another one in the Duty Free bookshop of the HongKong airport on my way home. Unfortunately they aren't available in Manila yet, but you can order from their site online or from anyone travelling to any of the cities listed above.

The Luxe City Guides are updated twice a year and 100% reliable, I dare you to be disappointed. As they claim with unapologetic authority: "If it's 'in', it's in here."
UPDATES:
Luxe goes to Europe! Paris, Madrid & Istanbul guides have now been added!
Luxe guides are now available at the magazine stand on the ground floor of South Supermarket in Alabang! Yay! :)