Beans (of the legume and pulse variety) are a staple in many cuisines around the world. They are so versatile , they can be pureed into stews and soups, scattered in salads, mashed into dips, stuffed into burritos. Some of my most favorite meals to eat and cook is made with beans:
fabada
(spanish white bean stew) ,
lentejas
(lentil soup) ,
feijoada
(Brazilian/Portuguese bean stew)
, dahl
(indian stew which can be made from a variety of beans),
hummus
(chickpea dip) ,
baked beans
, and
monggo
(Filipino mung bean soup).
All of the above are to me, comfort food. There is nothing like a bowl of fabada or lentejas or monggo to nourish and warm my tummy on a cold and rainy day. And last Sunday was such a day with typhoon
Glenda
howling outside and beating down on our tin roof. I decided it was the perfect day to try out
Clotilde's
recipe for
chestnut and lentil soup
, which is her version of
Maki's recipe.
The only way I have ever cooked lentils was the Spanish way which is with olive oil, chorizo (sometimes even ham or bacon) and garlic. I loved this hearty dish so much I never dreamed of having my lentils any other way. The mere thought seemed almost sacrilegious. But this recipe begged to be tried. The idea of mixing chestnuts into a stew just sounded too good to brush aside. Here's the recipe as I made it: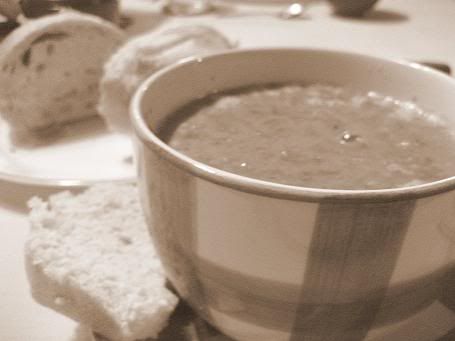 Chestnut and Lentil Soup
100 g chestnuts (should be 200g but this is all I had)
1 tsp yoghurt (or creme fraiche)

In a large saucepan, heat up some olive oil and cook the onions and garlic on medium heat until translucent, for about ten minutes.

Add the water, the bouillon cubes, the lentils, the herbs, a bit of salt and a bit of pepper. Bring to a boil, and let it simmer gently for 20 minutes. Add the chestnuts and cook for another 40 minutes, or until lentils are soft.

Remove the bay leafs then transfer some or all of the soup in the food processor and mix it slightly or to your desired consistency. I prefer my soup chunky so I did a couple of quick pulses on the blender.


Return the mixed soup to the pot, add the yoghurt, and stir over low heat until it is nicely blended.

(Serves 4.)
It turned out wonderful served with some sourdough bread. Even my folks enjoyed it. It has a nice sweet, creamy taste that just soothes the grey away. I only wish I had more chestnuts to add.


Thank you Maki and Clotilde for sharing this yummy recipe with us. :)


By the way, if you are having difficulty finding chestnuts in Manila this time of year, I got mine at Lord Stowe's bakery in Market! Market!. They come in foil packets of 100g.