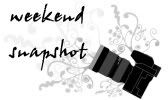 My sister and her husband were at the beach for the weekend at a friend's wedding. So I played babysitter to her five kids and had the best time! They really bring me so much joy and make me relish being an aunt and godmother.
We spent all of Saturday playing in the garden and all of Sunday at a friends place for a bbq and swim party. There was lots of food: quesadillas, burgers, sausages, chili-garlic pasta, bruschetta, mango & tomato salad and ice cream sandwiches on Sunday and pizza, popsicles and taho on Saturday.
I chose a photo of taho for this week's WS because I love it, plain and simple. It never fails to make me and my tummy happy - both for the childhood memories it brings and for it's super healthy deliciousness! The best part about it was that it was cheap, so cheap we could actually pay for it ourselves when we were little, from out of those cylindrical cardboard piggy banks, remember those? Or from the loose change we'd scrounge from around the house and inside the car.
My sisters and I would race to the front door when ever we'd hear our local taho vendor singing "tahoooooo" as he walked by carrying those tin buckets from a bamboo pole across his shoulders. He would call out extra loud as he passed our house, knowing that during those summer afternoons we'd most likely be inside waiting for him if we weren't already out on the streets playing. We'd hand him our own big glasses to fill (his small plastic cups were never enough for our appetite, though they're just right for my nieces -photo above), hand him our money and then take our big glasses filled with hot taho back into the house where we'd happily eat them with a spoon. Mmmm...childhood comfort food.
I no longer have taho as often because I'm rarely home, so the few times that I catch our magtataho (taho vendor) in the morning, or on the weekends, you can bet I get my share! :)
For those unfamiliar with taho, it is a drink/snack made with silken tofu, syrup and tapioca pearls called sago. It can either be drank from a cup or eaten with a spoon, and usually it's taken hot or warm. You will find many magtatahos plying the street of our country, but there are now kiosks selling original and flavored taho in the malls.
magtataho on the boulevard