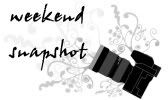 My dear niece turned three last weekend and we had a nice intimate party for her at her my sister's garden. There was all the good stuff of birthday parties including games, prizes, presents, and yummy party food. After she blew out the candles on her cake, and as soon as night fell, her uncle brought out a torch he made especially for her, which when lit glowed a beautiful number 3 for the number of years she's livened up our worlds. Happy birthday, dearest N!! I love you bunches! :)

For more Weekend Snapshot entries, click here.
Also, for those that inquired or those who are interested in these torches, (they can make words out of it too), send an email to Freddie: freddie@effects.com.ph .