On a recent visit to
Chef's Nook
in Mandaluyong, I bought a bag of dried cranberries. I didn't know yet what I was going to do with it, I just knew I wanted them. I went through my recipes: cranberry glazed breast of turkey (but made with chicken) ?, cranberry fig chutney?, crunchy cranberry buttermilk muffins? Finally, I decided I wanted a crumble or crisp type of dessert. (That is one and the same right, crumble and crisp?)
So I settled on a cranberry crumble bar recipe I had which I got from the
Home Baking Association
some time ago. I've always enjoyed tarty desserts, especially those made with lemons ! And lime. (read: key lime pie!) So here's what I made and the recipe for it.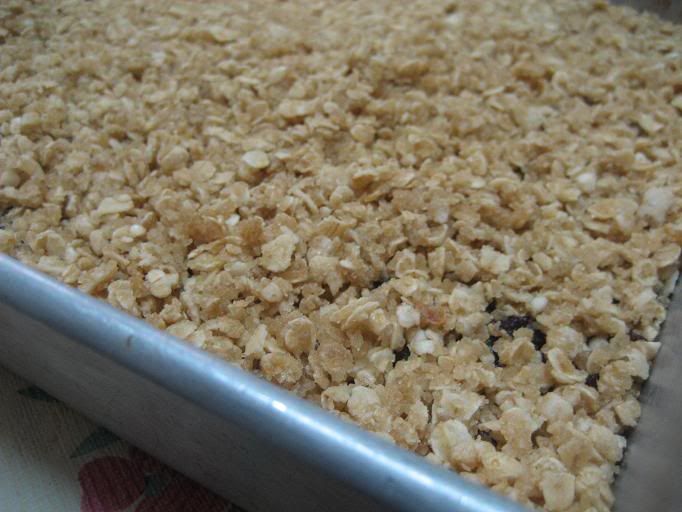 Cranberry Crumble Bars
3/4 cup packed brown sugar
1/2 cup butter, softened
1 1/2 cups quick-cooking or old-fashioned oats
1 cup all-purpose or whole-wheat flour
1/4 tsp. salt
Filling:
1/2 cup sugar
1/4 cup orange juice
1/4 cup water
2 cups fresh cranberries (I used dried)
1 tbsp grated orange peel
1/2 tsp. ground cinnamon
Preheat oven to 400°F
Prepare cranberry filling; mix sugar, orange juice, and water in a saucepan and bring to a boil. Stir in cranberryies, orange peel and cinnamon. Cook over medium heat for about 10 minutes, stir occasionally until thickened. Set aside to cool.
Mix brown sugar and butter in a medium bowl. Stir in remaining ingredients until crumbly.
Press half of the crumbly mixtures in an ungreased rectangular parn, 13 x 9 x 2. Spread with filling and top with remaining crumbly mixture. Press lightly. Bake about 20 minutes or until light brown. Let cool for at least 15 minutes before slicing.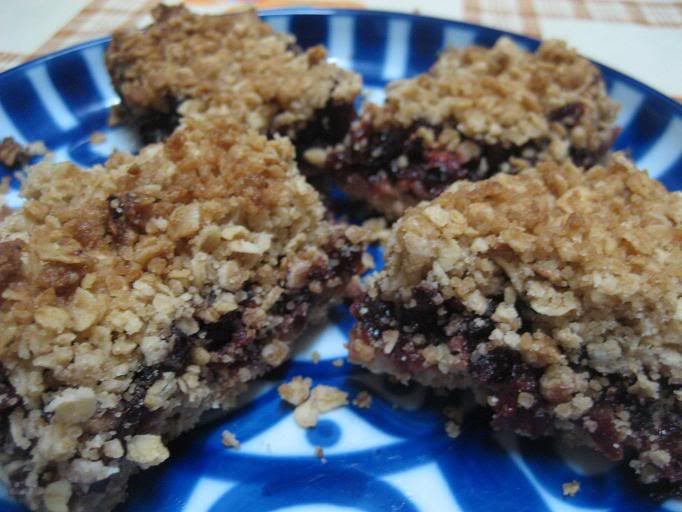 Tastewise, they were great! But I think the overall aesthetics could have been improved a bit. Maybe by adding a tad more butter, or perhaps syrup to bind the oats together a bit more. The first bar I sliced crumbled to pieces. But as I let it cool a little longer, they were a firmer and easier to handle.

My favorite way of eating the bars was a la mode. Warmed in the toaster oven and topped with vanilla ice cream. I've always loved the combination of warm cookies/crumbles/cakes and ice cream. :)